Call A Private Utility Locator Before You Dig
Electric | Gas & Oil | Water | Sewer & Storm | Communication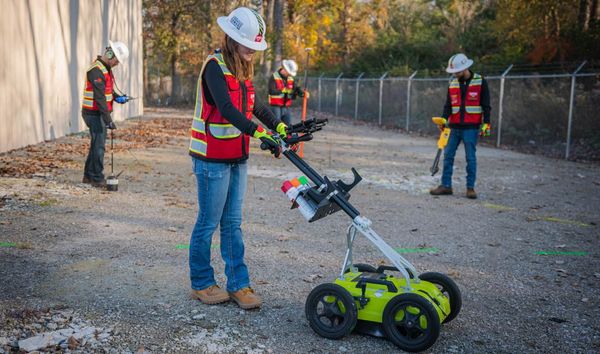 Underground Private Utility Locating
Underground private utility locating is critical to any construction project where subsurface excavation is planned. The excavation team and property owner are responsible for locating and avoiding any underground utility lines, public or private, beneath the construction site. Failure to accurately map and avoid these utility lines can result in expensive damage, costly delays, and potential injuries to your excavation team.
Exceptional Utility Locating
GPRS provides full-service utility locating to help keep your projects on time, on budget, and safe. One call state locators, like 811 services, are only responsible for locating the public utility lines. Their service, while valuable, fails to take into account the significant number of private utility lines and can still leave you exposed to damages and delays.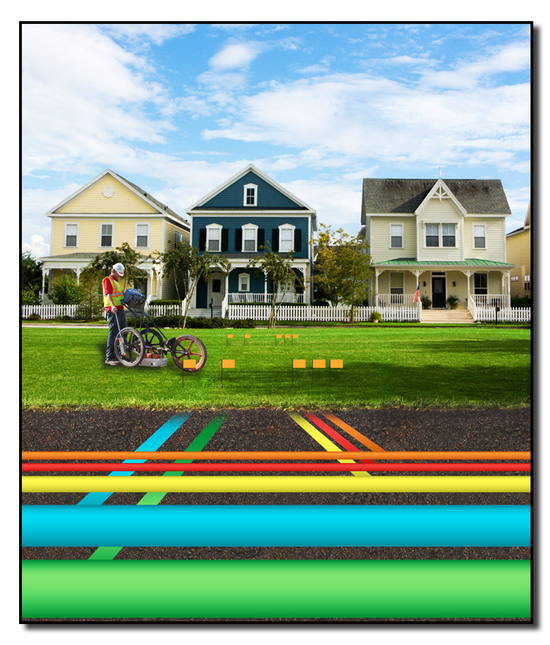 Utilities That Can Be Located
What Utility Lines Can Be Identified?
GPRS offers you a comprehensive range of utility locating and reporting options, from marks on the ground to basic field sketches to comprehensive CAD reports identifying buried electrical, water, gas, communication, sewer, and storm drain lines. Our state-of-the-art technology and expert Project Managers will provide you with an accurate location record for future reference.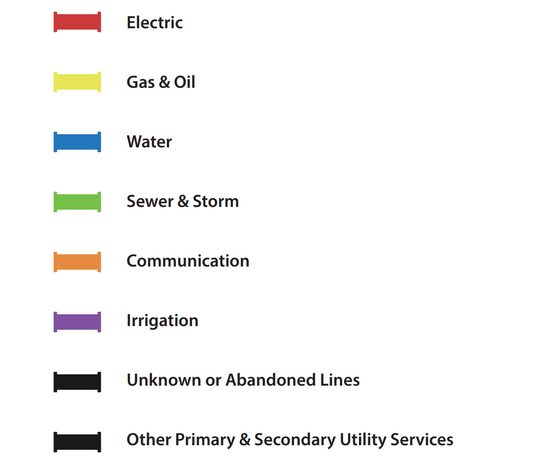 Our service is second to none. We utilize GPS technology to pinpoint subsurface utilities, map their locations and develop detailed PDF and dynamic geolocated reports for our customers.
Utility Locating & Injury Prevention
Safety and injury prevention are the top priorities at GPRS, as it is for our many clients. It's at the core of our services and something we take great pride in. If a utility line is damaged or compromised, your team can be exposed to danger from live electrical lines to gas and sewer utilities. An ounce of prevention, such as accurately mapping and locating the utility lines buried beneath your job site, can save you time, money and keep your construction safe.
Our utility detection services can locate electric, gas, oil, steam, communications, water, sewer, and storm lines. We help utility contractors and other construction workers avoid accidental strikes, one of the most common sources of construction-related injuries, by locating these utilities.
Injury prevention is critical for employee safety and keeps projects on time and on budget. Our project managers are rigorously trained in all aspects of project safety before being certified for field duty. They also are required to take regular courses to stay current on all safety developments.
5 Cost Factors in Your Utility Locating Project

How complex is your utility locating target?
Is utility congestion high or low in the area?

The type and quantity of utilities being located.
This includes water, power, gas lines, sanitary and storm sewers, and other critical subsurface utilities.

The size of the area that is to be inspected.
The larger the area that requires utility scanning, the more significant the potential impact on cost.

The scope and detail required for the project.
Simple painting/flagging utility locations is at one end of the cost spectrum, while requesting detailed AutoCAD reports of our findings is at the more expensive end. Other options to help control costs include field sketches and Google Earth imaging.

Difficulty of Site Access.
If there are limitations and restrictions to when we can access the project site in terms of days and times, it will impact the project's cost.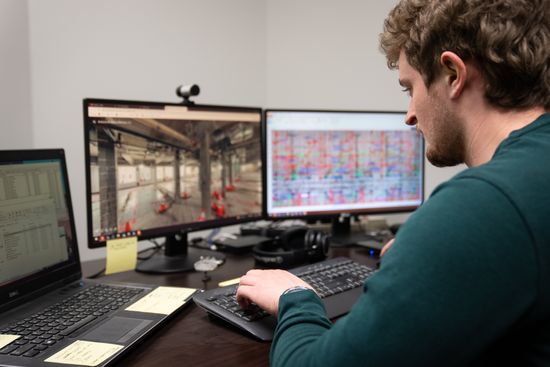 Analyzing 3D scans
Utility Location Markings & Deliverables
The services and products offered by utility locating companies may vary from company to company, so it is essential to know what is provided.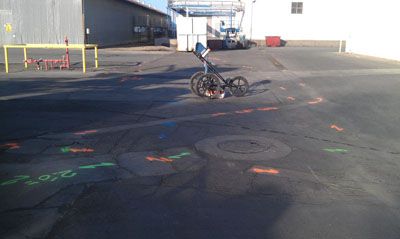 Field Markings
Physical Markings or Flags
Field markings are often applied in the form of paint, pin flags, stakes, or any other method requested by clients. Project Managers trained by GPRS ensure that all field markings applied are clear and understandable. Each GPRS Project Manager creates a GPS mapping sketch for our automated utility locate delivery service.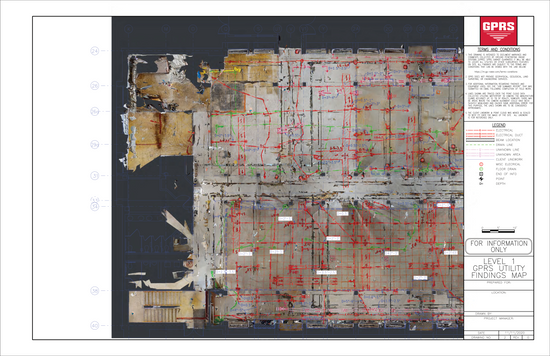 PDF file shows utilities' locations visually.
PDF & KMZ Maps
Knowing the difference between a kmz and a pdf map is essential. A pdf file shows utilities' locations visually. PDF files are like paper maps that you can view on a computer or monitor. Kmz files, on the other hand, include geolocated points indicating specific utilities, lines, and other features. Every utility locating project from GPRS is accompanied by a complimentary pdf map and kmz map.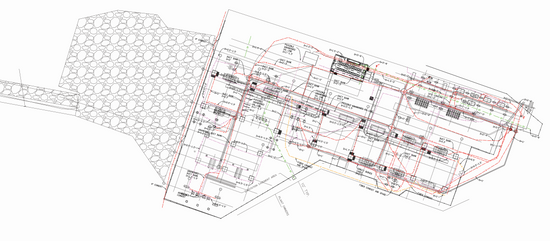 Space can be modeled in 2D or 3D in CAD files.
CAD Renderings & 3D Models
The space can be modeled in 2D or 3D in CAD files. As-built drawings are developed or updated using this service, which contractors and engineers can use. CAD and GIS systems are used by clients for preplanning, avoiding utilities, or documenting their site history. We can generate CAD files documenting our outdoor utility locating results through the GPRS Deliverables Department.
6 Frequently Asked Questions About Ground Penetrating Radar Utility Locating Services

Can GPRS Find Plastic Pipes?
Yes. The technology and expertise applied to your project site allow for discovering the varying pipe compositions existing in the industry.

Can GPRS Determine the Type of Utility it Has Located?
Our equipment can't determine the type of utility we've found, but often our project managers can. With their experience and knowledge, they can trace the line to where it surfaces and determine its type.

How Accurate Is Your Utility Locating?
GPR is highly accurate! However, variables such as ground and soil conditions affect accuracy. Regardless, GPRS Project Managers are trained on mitigating these potential issues. We've found that when using a standard concrete antenna for scanning, the result is typically +/- ¼" to the object's center and +/- ½" to the depth. When locating using a utility locating antenna, the accuracy is +/- 6" to the center and +/- 10% to the depth.

Can We Get A Permanent Record Of Your Findings?
Yes. We can provide you with a field subsurface utilities markings map and a detailed AutoCAD report.

How Large Of An Area Can Be Scanned For Utility Locations In One-Day?
The size of the area that can be accurately located in one-day will vary based on the project site itself. Vacant/green fields many acres in size scheduled for residential development can be accurately located with great speed as the expected congestion of utilities is low. On the other hand, a small property (less than one acre situated on a busy metropolitan street) could be time-consuming as the anticipated high utility congestion.

Are Saturated Soils or A High-Water Table Detrimental to Ground Penetrating Radar Results?
It can be. While the equipment used by GPRS is effective, it can be inhibited by moisture. It is best to contact your local expert GPRS Project Manager for more information on the soils native to your project.
State Agencies Vs. Private Utility Locating Services: Know the Difference!
To prevent utility strikes, states offer a free utility locating service to anyone excavating. It's the contractor's responsibility to call 811 rather than risk this subsurface damage. In different states, 811 services are known by various names, such as Digline, Onecall, etc. 811 services are exclusively for public utilities. Private utilities are not included.
Public utility services include water, electricity, gas, communications, and sewers. In contrast, it is no longer considered a public utility once a line is connected to a private facility. The 811 service is often in high demand since it is required for every new construction project. While 811 services offer a base level of information, they do not provide as much detail as needed. GPRS and other private companies may offer more detailed information, such as the depth of the line, abandoned lines, etc. 811 typically cannot provide high-quality digital maps or deliverables that private companies can.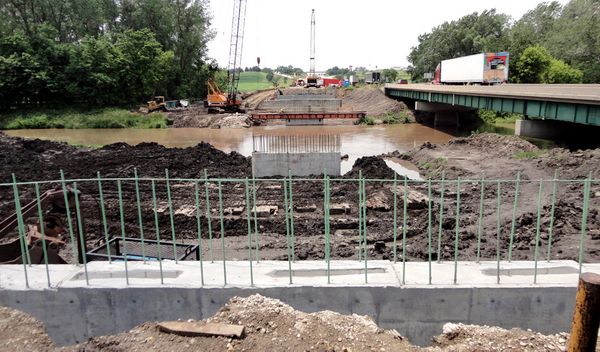 Utility Locating At Road Construction - Highway Bridge
Clients should contact both public and private utility locators for best practices, such as GPRS. GPRS provides subsurface damage prevention services, including: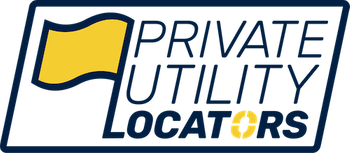 Schedule a Project Today
GPRS offers ground penetrating radar, video pipe inspection, as well as mapping and modeling services. Our Project Managers have the skills and equipment to handle any subsurface challenges. To do this, GPRS uses various advanced locating technologies in conjunction with our world-class SIM process.
Don't wait. To schedule a project with GPRS, click here. Our highly trained Project Managers will keep your project on time, on budget, and safe.