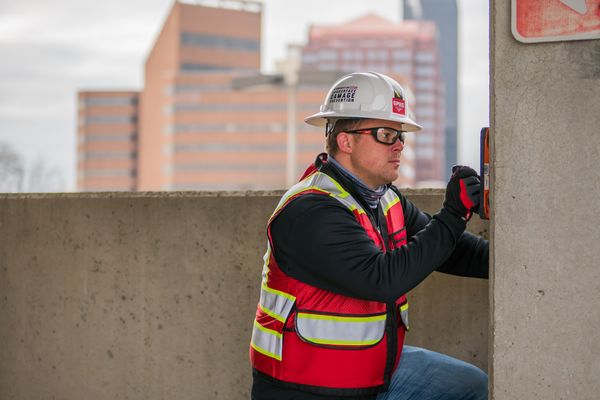 Concrete Scanning to Locate Utilities
Ground penetrating radar (GPR) is used in concrete scanning to locate utilities and structural elements embedded in concrete before cutting, coring, or drilling a structure. The use of GPR is safe, non-invasive, and effective for assessing concrete columns, slabs, and walls because it uses reflected radio waves.
Concrete Scanning: Why is it Important?
Concrete imaging helps to prevent injuries, damage, and extra expenses. To maintain safety on a construction site, concrete scanning identifies and locates objects present within the concrete. GPR scans can be used to detect air pockets in concrete, the depth of the concrete, and what objects are in it. Concrete scanning is vital to:
Ensure the structural integrity of the concrete

Mitigate costly repairs

Reduce the risk of personal injury

Ensure that utilities, post-tension cables, rebar, pipes, and conduits are not damaged
Concrete scanning should be planned if the concrete contains structural or utility elements, such as concrete floors. Concrete scanning is often recommended during construction, remodeling, renovation, or demolition activities to avoid potential damages, such as a strike of unknown conduits, utilities, and rebar.
Concrete imaging is used to examine:
Decks

Roofs

Slabs Floors

Pylons

Tunnels

Walls

Beams

Bridges

Ceilings

Columns
Frequently Asked Questions About Concrete Scanning
Can Ground Penetrating Radar Scan Concrete Slab-On-Grade?
Yes. These questions are usually posed by someone who's familiar with concrete x-rays. Due to the need to access both sides of a slab, x-rays are currently only useful for locating reinforced steel in elevated slabs. Concrete x-rays require a radioactive isotope on one side of the slab, and a film on the other side of the slab.
Ground penetrating radar uses a completely different technology. It doesn't require access to the entire concrete slab. GPR is suited to slab-on-grade applications.
Can Ground Penetrating Radar Differentiate Between Rebar, Post Tension Cables, Electrical Conduits, And Other Embedded Materials?
GPR does not determine the type of object being located; however, skilled concrete scanning technicians use all available data to determine the type of reinforcing steel or electrical conduit present.
By combining GPR with other site data and experience, technicians can accurately identify all subsurface obstructions. Findings are then marked on the concrete. For example, in a square layout, an obstruction on an angle will typically be a conduit. Conduits may have subtle differences in the GPR reflection than rebar, different depths, spacing, patterns, etc.
How Accurate Is Ground Penetrating Radar When Scanning Concrete?
Our horizontal accuracy is typically +/- ¼" to the object's center in concrete. Using GPR, we can also identify the depth of each object in concrete to within +/- 10-15%.
While GPR is very accurate, we always recommend clients cut, drill, or core one to two inches from any line marked as an obstruction. While GPR typically cannot provide the exact diameter of a subsurface obstruction, a skilled technician can provide a very accurate estimate of diameter.
Is Ground Penetrating Radar A Risk to Health?
This concern usually arises from someone with experience in x-raying concrete because radiation exposure from x-rays is known to pose health risks. The use of x-rays to identify items embedded in concrete remains a viable and accurate method, but x-ray companies must ensure safety by clearing people from an area around the x-ray location.
Surprisingly, the typical power output of a GPR antenna is less than the power output of most cell phones. Consequently, there are no health concerns for our project managers, construction workers, or tenants in the building where the work is taking place.
Additionally, GPR is a soundless process, so noise pollution is not an issue.
How Much Time Does it Take to Scan for Core Drilling?
Ground penetrating radar is a highly efficient and fast method of scanning. GPR is very versatile as it can do anything from determining the slab thickness in an entire warehouse or pinpointing rebar for a core drilling location.
GPRS typically uses a 2-foot by 2-foot layout for core drilling locations. Generally, scanning and marking a location of this size takes about 10 minutes.
Equipment Limitations
Ground penetrating radar is an effective tool to find the locations of obstructions but it's possible that some conditions, operations, or desired results, may not be suited for GPR's
Limiting Factors of Concrete Scanning
Concrete scanning is generally reliable, but some conditions may interfere. These include:
Closely spaced steel content

Reflective aggregate in concrete mix

The subsurface conditions beneath the slab

External interferences

High moisture content

Metal fiber reinforcing
Modern construction technologies and documentation practices pose these issues less frequently, but they can and do arise from time to time.
How Much Time Does Concrete Scanning Take?
GPR can identify the position and depth of embedded objects such as rebar, conduits, post-tension cables, and more. If there is no interference or unusual conditions at the site, GPR can detect embedded structures quickly, sometimes within a few seconds. But typically the time required for a project depends on various factors such as the time frame of the project, the client's needs, the type of slab and the amount of reinforcement in the slab, and more.
Can Concrete Scanning Identify the Differences Between Subsurface Obstructions?
No, not by itself. Using GPR, we can tell that an obstruction is at a given location. We can also determine the depth of an object. Translating information into useful utility and other material markings requires a human mind and eye to translate the image on the control unit display to show the client what obstructions lie below the surface. Skilled concrete scanning technicians can almost definitively identify what obstructions are beneath the ground by using their expertise and training.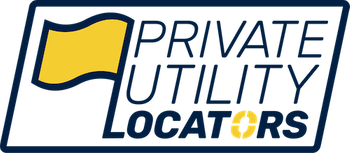 Schedule a Project Today
GPRS offers ground penetrating radar, video pipe inspection, as well as mapping and modeling services. Our Project Managers have the skills and equipment to handle any subsurface challenges. To do this, GPRS uses various advanced locating technologies in conjunction with our world-class SIM process.
Don't wait. To schedule a project with GPRS, click here. Our highly trained Project Managers will keep your project on time, on budget, and safe.