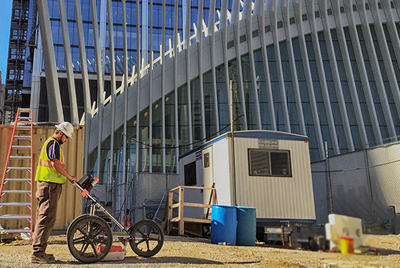 GPRS provides full service utility scanning and locating, from gas and oil lines, to buried power and communications lines. We find subsurface hazards before you dig.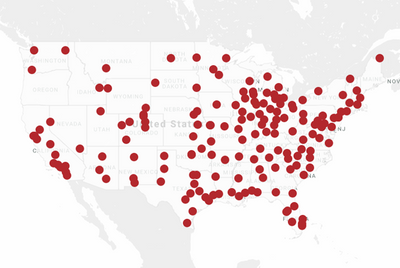 GPRS provides private utility locating services throughout the entire United States, with staff in nearly every US metro area. Our team can be on your job site in hours.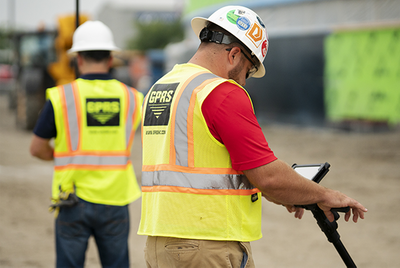 Our team of trained utility scanners provides Industrial, Commercial & Residential Private Utility Locating Services.
Benefits of Choosing Private Utility Locators vs State Call:
PRIVATE UTILITY LOCATORS
GPRS will Locate ALL buried utility lines in your excavation area, including:
Water service lines (plastic or metal)
Secondary electric (site lighting, signage, 480 volt/220/110 conduits)
Communications (phone data, cable TV, fiber)
Gas lines (plastic or metal)
Sewer lines (include septic tanks, leach fields, field tile pipe, etc.)
Misc. utility lines such as oxygen, steam, chilled water lines, nitrogen and other chemical transport lines
STATE CALL LOCATORS
State Locators like Call811 will locate ONLY public utility lines, such as:
Water force mains and some service lines (typically only on public property like streets and right-of-ways, easements, etc)
Primary Electric
Communications (phone, data, Cable TV, Fiber)
Gas and service lines (only if metallic pipe or tracer wire is used)
Main Storm and Sanitary Sewer
The Benefits of Choosing a Private Utility Locator
GPRS private utility locating services are meant to give your excavation team a better picture of what utility lines lie beneath the surface of your job site. Our mapping information is mean to function alongside the usual state/811 calling service, not to replace them. By using both services in conjunction, you and your team can have a complete and accurate depiction of all the potential utility hazards hiding beneath the surface of your excavation site.
Remember: Private utility locating is the responsibility of the property owner or construction company on site
Private utility locating is the responsibility of the property owner. These privately-owned utilities account for almost 65% of all buried utilities in the United States. Besides the legal requirement to locate and avoid subsurface utility lines, failure to locate these underground utilities before you excavate can result in serious injury or even death. In additional to risk to your team, excavating can cause damage to the utility lines that you may be held responsible for repairing.
Private subsurface utilities represent over 65% of all buried utility lines. State call services are giving you only half the picture.
GPRS provides high quality customer service as well as accurate utility locating results. GPRS can locate telecommunications cables, private water service, sprinkler systems, propane tank lines, security lighting wires, ancillary electrical conduits, and more.
Contact a GPRS project manager today for all your private utility locating needs.
Why a private utility locating service?
Subsurface utility lines represent one of the most common risks to excavation crews and one of the biggest unnecessary expenses for construction jobs. You are required by law to locate and avoid any subsurface utilities located on your job site before beginning any excavation project. Normally, this process starts by calling your local 811 state utility locator. But they are only required to locate public utility lines, providing you with an incomplete picture, putting your job and your team at risk.
811 Locating services only covers underground public utilities, and does not cover private utilities. For residential customers, private utilities may include gas lines for a heated pool, electric lines for a shed, garage, or barn, and certain sewers. For commercial customers, private utilities may include parking lot lighting, fire mains, and building-to-building utilities. All of these lines will be your responsibility if damaged or severed during the course of your excavation!
How Do Utility Locating Services Work?
GPRS uses a variety of state-of-the-art tools to provide the most accurate utility detection services in the industry. We utilize RADAR, electromagnetic induction, thermal scanning, and CCTV sewer camera systems to help provide a clear and accurate picture of the location and condition of utility lines beneath your job site. The goal of GPRS's utility locating services is to identify the type and location of buried utility lines in order to prevent unnecessary damage to them during excavation.
The Accuracy of GPRS Private Utility Locating
To ensure the accurate and complete locating of buried private utility lines, customers need to contact a private utility locating contractor such as GPRS. Our state of the art radar technology will provide the most comprehensive data of existing sub-surface utilities on your job site. With the accurate utility locating that GPRS provides, you can avoid damage to existing services.
GPRS utility locating services will locate the underground utility lines and provide you and your team with a detailed 3-dimensional map of their location. This data can be used to help plan the excavation process, preventing delays, fines and other costs due to utility line damage or disruption. There are a number of problems that can occur when a person begins to dig, and these can include gas line explosions, fires or electrocution from power lines, and water lines bursts. Not only can these be costly, but they are also dangerous for property owners and workers. An underground utility locating service such as GPRS can locate each utility.
When is the best time to contact a utility locating service?
If you need underground locating services or water pipe locating services, call GPRS first. For many construction projects, knowing the location of subsurface utility lines or water pipes is crucial in order to assist with the placements of structures, supports, foundations, and digging tools required for the excavation process.
A residential utility locating contractor, such as GPRS, can help project planners from the pre-planning stages to the later building stages. Additionally, utility detection services help keep both workers and homeowners safe, and keep your project on time and on budget. GPRS can locate underground gas lines, pipelines, communications lines, electric lines, water, lines, sewer lines, and voids.
We can often have a utility locator on your property in a matter of hours. If you need underground utility locating services for your property or construction site, call GPRS today.