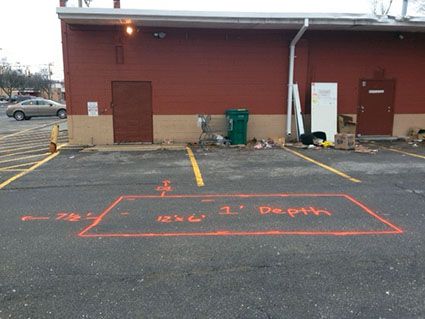 Storage Tank Locating for Environmental Company – Albany, NY
An environmental consulting company recently needed help determining if one of their client's properties had any underground storage tanks (UST's) located on the premises. The purpose of the search was to determine if there was a tank present, and if so, where it was located so it could be removed in a timely manner. Ground Penetrating Radar Systems, LLC. was referred to the company by another local environmental firm who had just recently had a similar project that had been completed. They knew they could count on GPRS to use subsurface imagining to find the tank. When they called the technician that covered the area they were pleased to hear he was available to complete the project the very next day.
Jim Bell of the Upstate, NY office mobilized to the site and began searching the property, and quickly determined the location, dimensions and depth of the UST. In addition to finding underground utilities, and storage tanks, Ground Penetrating Radar Systems has the ability to locate and map out rebar, post-tension and conduit prior to saw cutting and trenching, and in some cases unmarked graves.
If you have need of any underground imaging services please contact our Upstate New York office, which serves the Buffalo, Rochester, Syracuse, Ithaca, Binghamton and Albany areas, as well as all of the areas in between. If you are interested in obtaining more information or a quote please contact Jim Bell at (518)390-3725 or jim.bell@gprsinc.com.