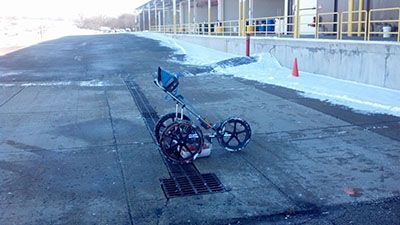 Private Utility Scanning At BP - Naperville, Illinois
Ground Penetrating Radar Systems of Illinois is the only scanning company around Chicago area that is qualified to do any scanning at this facility. It takes a good track record along with well trained GPR technicians to do work at a site like this. Before any excavations take place at this facility, the area needs to be completely scanned with GPR to locate any utilities that may be affected. The scanning for this particular job was completed outside of one of the buildings where the contractor on site needs to replace the floor drain that you see in the picture. While replacing the floor drain they would be tearing up the concrete pad around it so they can replace all necessary parts. All utilities were marked directly on the asphalt along with being recorded with a GPS and put into a google earth map.
This type of work is pretty common for the GPRS technicians across the U.S. The Chicago technicians cover Illinois, Wisconsin, Iowa, and parts of Indiana. If you have any questions about our services and or you need us on your next project please feel free to call Troy Bullock at (773)717-6935 or email at troy.bullock@gprsinc.com.