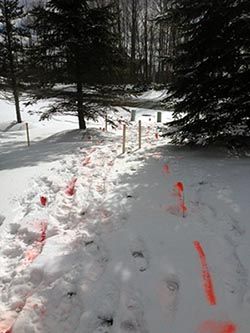 Private Utility Locating Services - Syracuse, NY
A construction contractor is currently working on building an addition on to private residence in the Syracuse area. The project will involve excavating around the house on in order to lay the foundation for the addition. Prior to beginning any excavation on the site they were required to hire a company to complete the private utility locating to eliminate the possibility of striking any lines in the area.
Ground Penetrating Radar Systems, LLC. had completed other projects similar to this for them in the past and they knew they not only had the ability to locate the utility lines, but to also provide their respective depths beneath the surface. The contractor decided to give GPRS a call and was pleased to hear he was available to complete the project well within the required time frame!
Jim Bell of the Upstate, NY office mobilized to the site and began marking out all of the underground utilities within the area. In addition to finding underground utilities, and storage tanks, Ground Penetrating Radar Systems has the ability to locate and map out rebar, post-tension and conduit prior to saw cutting and trenching, and in some cases unmarked graves.
If you have need of any underground imaging services please contact our Upstate New York office, which serves the Buffalo, Rochester, Syracuse, Corning/Elmira, Binghamton and Albany areas, as well as all of the areas in between. If you are interested in obtaining more information or a quote please contact Jim Bell at (315)715-5137 or jim.bell@gprsinc.com.