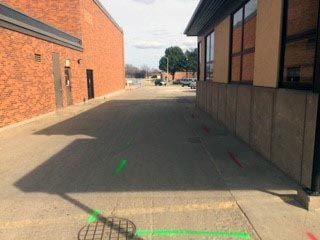 Private Utility Locate Prior to Soil Sampling - Wichita, Kansas
Ground Penetrating Radar Systems was called to locate underground utilities at a site in Wichita before the client took any soil samples. The technician was able to locate both a sewer and an electric line that could've been struck during the drilling process. The technician used a combination of Ground Penetrating Radar and a RD Wand and was able to clear several locations where the client could drill without incident.
Using Ground Penetrating Radar combined with a Radio Detection Wand to help locate underground utilities will give you the most information about the utilities on your project. Ground Penetrating Radar of Wichita can also assist in any projects in the Salina and Hutchinson areas. For more information about GPRS capabilities please contact Terry Jeffries at terry.jeffries@gprsinc.com or (913)232-6533.