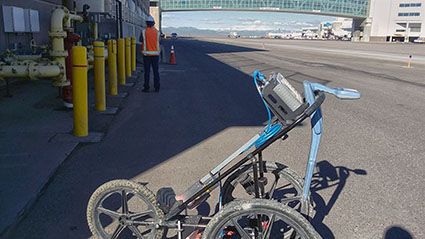 Private Utility Locate at Airport in Denver, CO
Ground Penetrating Radar Systems, LLC. of Denver, CO was contacted by a contractor to locate utilities at the Denver International Airport. Utility locates were requested prior to saw cutting and hydrovacing. GPRS was able to use a 400 MHz GPR antenna to locate a UFER ground wire and help the customer from saw cutting through the ground wire.
Ground Penetrating Radar Systems uses safe and cost effective methods to conduct non-destructive testing investigations. Ground Penetrating Radar is safe to be around while concrete imaging is taking place, emitting no radiation unlike concrete x-ray. GPRS can perform concrete imaging investigations on large or small areas to locate post-tension cables, rebar, underground storage tanks, plumbing or electrical conduits. If you need a similar concrete imaging scan done on your job site please feel free to contact Kevin Salazar (Project Manager) at (720)498-3834 or at kevin.salazar@gprsinc.com.