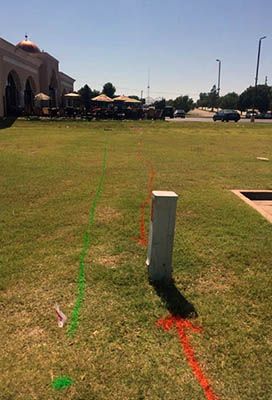 Private Utility Lines Located with GPR - Tulsa, Oklahoma
Ground Penetrating Radar Systems - Oklahoma worked extensively with a Land Survey Company to locate underground utilities at a shopping center in Tulsa, Oklahoma. GPRS Project Manager Jay Tate - GPRS Oklahoma was contacted to locate underground lines and depths of both private and public utilities lines within the shopping center property. Lines were located using Ground Penetrating Radar and the Radio Detection Device. Since GPR shows data in real time, the results were communicated to the surveyors with the location and depths shown using paint. With the utilities marked on the surface surveyors was able to record the findings and place them on the requested maps for their client. GPRS provides knowledge of what lies beneath the surface.
Using GPRS reduces risk and cost, promotes a safe work environment, and provides non-destructive testing by locating materials such as concrete, plastic, metal, steel, rock, soil, ice, and pavement. GPRS is a nationwide company with technicians in every state and city. GPRS technicians must complete months of training in and out of the field, with its training facilities in Toledo, OH. GPRS - Oklahoma Team has more than 15 years of field experience to help your company on your next project, to prevent the potential of a dangerous or costly utility strike.
Our Mission is to provide solutions to the critical problems our customers face regarding the location of hidden elements in concrete and underground.
For underground locating services in Oklahoma: Catoosa, Cushing, Drumright, Cleveland, Tulsa, Broken Arrow, Glenpool, Tahlequah, Collinsville, Owasso, Okmulgee, Verdigris, Claremore, Miami, Bixby, Sapulpa, Muskogee, Sand Springs, Bartlesville, Broken Arrow, Pryor, Durant, Hugo, Poteau, Stilwell, Sallisaw, Henryetta, Okmulgee, Coweta, Wagoner, McAlester, Idabel, Broken Bow, Vinita, and Nowata, Vinita, Collinsville, Hugo please call (918)779-8323 or email jay.tate@gprsinc.com.
For utility locating services in Oklahoma: Oklahoma City, Midwest City, Bethany, Del City, Norman, Stillwater, Guthrie, Yukon, Mustang, Moore, Warr Acres, Piedmont, El Reno, Tuttle, Cashion, Blackwell, Chandler, and Edmond area call (405)815-7415 or email andy.dermer@gprsinc.com.
For underground utility locating services in Oklahoma: Lawton, Elk City, Weatherford, Guymon, Woodward, Enid, Alva, Clinton, Duncan, Altus, Ardmore, Shawnee, Chickasha, Pauls Valleys, Ada call (580)335-4355 or email mike.kuebbeler@gprsinc.com.