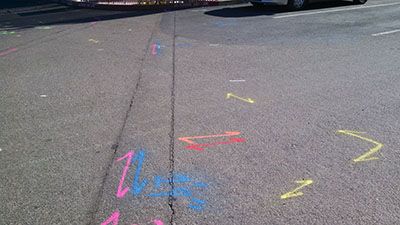 Private Underground Utility Locating - Sacramento, CA
Ground Penetrating Radar Systems, LLC. was contacted by a large surveying firm to use Ground Penetrating Radar to locate the underground utilities at a subject property near Sacramento, CA. The Ground Penetrating Radar was successful in locating many underground utilities. As seen in the picture above utilities included but were not limited to gas lines, power lines, communications, water and so on. The utilities located were labeled, and this information was able to be collected by GPS and used to create an understanding of the utility grid.
We use the latest ground penetrating technology to provide critical information on utilities, materials, and other potential obstructions within existing structures or underground. Fast and reliable, GPRS provides both two- and three-dimensional images of the scanned areas without delivering any radiation. All of our equipment is registered and meets all standard FCC regulations.
Utilizing GPR reduces risk and cost, promotes a safe work environment, and provides non-destructive testing by locating materials such as concrete, plastic, metal, steel, and pavement. Our client base includes hospitals, universities, surveyors, engineers, homeowners, contractors, environmentalists, and excavators.