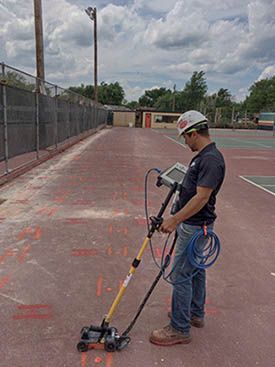 Post Tension Cables Located on Tennis Court - Dallas, TX
This GPR scan took place on a concrete tennis court in Dallas, TX. The customer needed to identify the locations of the post tensioned cables running through the slab, so they could safely demo sections of it for repair. Concrete reinforced with post tensioned (PT) cables can cause serious injury or damage if struck in the event of a failure. The PT cables needed to be clearly marked before the customer commence deconstruction of the reinforced concrete slab.
David Hagenmayer with Ground Penetrating Radar Systems, LLC., was contracted to scan the area requested and mark out all PT cables and obstructions in the concrete. David was able to determine the precise locations of the cables and the client was then able to safely and effectively drill.
GPRS, LLC. can identify structural steel embedded in the concrete with an accuracy of (+/-) ¼". This is important to note because there are often times when a customer has to drill in a specific location to install conduits or plumbing on refits of existing structures. The obvious benefit of having such a high degree of accuracy is we can determine the best place to drill in a highly congested area.
GPRS, LLC. of Dallas is the most trusted concrete scanning company because of its highly trained and dedicated technicians. We are the best at what we do, because it's all we do. Ground Penetrating Radar is cost effective, non-hazardous, and provides data in real time. For GPRS services in North Texas, please call (972) 922-0223 or email david.hagenmayer@gprsinc.com. We also offer nationwide service. For a local representative, please visit our website at www.gp-radar.com.
GPRS, LLC. offers a response time unrivaled in the industry. Often times, we can schedule your project the same day or within a few days at the most. By delivering fast and accurate service, you can be sure your project remains on schedule and within budget. Our experienced technicians set the bar and offer professional services to meet the needs of the fast paced construction industry.