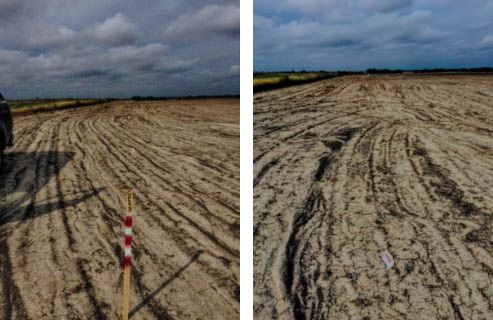 Locating Underground Utilities at Pre-construction Investigation - Pratt, KS
Ground Penetrating Radar Systems of Wichita was called to do a pre-construction investigation for underground utilities at a site in Pratt, Kansas. The site was going to have all new underground utilities ditched in a large section of farm land two miles in length by twenty five feet in width. With the utilities getting placed approximately four feet deep there was concern that any existing utilities would be struck during the ditching process. It was believed that there could be some abandoned pipelines running through the field. With no record of the pipelines being removed and very little information known about the lines themselves, there was not much information for the technician to go on. The clients project was at a complete standstill until it could be determined if the new utilities could be laid safely without striking existing lines. The technician used both ground penetrating radar, and a radio detection wand to scan the field in search of the lines.
After thoroughly scanning the field, a gas pipeline was located running through the construction area. Using spray paint, pin flags, and wooden stakes the technician marked the line so it would stand out in the field for the client. Using Ground Penetrating Radar the technician was able to provide an accurate depth on the pipeline. With the results provided by GPRS the client was able to bore under the pipeline safely, and get his project up and going again.
GPRS's use of multiple utility locating technologies can help assure you are getting the fastest and most reliable locate for your next project. GPRS can assist you with all of your locating needs. Whether you are excavating, boring, or trenching GPRS is your locating solution. Using GPRS will not only save time and money during construction, it can also save a life. Ground Penetrating Radar Systems of Wichita can assist you in your projects in Salina, Dodge City, and Hutchinson. For more information about GPRS capabilities or questions on how we could assist you on your next project please contact Terry Jeffries at terry.jeffries@gprsinc.com or (913)232-6533.