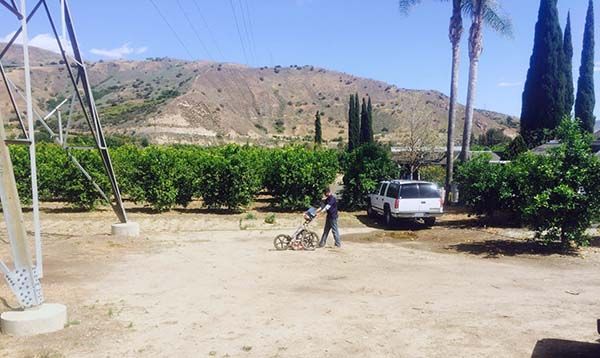 Ground Penetrating Radar Scan Performed - Fillmore, Southern CA
Ground Penetrating Radar Systems, LLC. - GPRS - of California was contacted by a surveying company to locate all utilities within their designated cell tower location. We scanned an area near an existing cell tower in a lemon orchard and while scanning we were able to find a conduit that ran from a pole towards the nearby home at 2' deep. Among other findings was a water line that cut across the middle of the designated scanning area. We also used Radio Detection to find live power and ambient signals. We marked all findings with spray paint and flags.
Ground Penetrating Radar is a great tool to scan areas of post tension cables, rebar, and conduits, including PVC pipes and can also be used to locate underground utilities prior to digging or excavating. Please contact Ground Penetrating Radar Systems - GPRS to learn how we can assist with your project. To locate rebar, post tension cables, conduits, pipes or utilities in concrete or underground please contact us today. GPRS has offices throughout the entire state of California and performs GPR surveys throughout the entire state, including cities like Ventura, Santa Barbara, Thousand Oaks, Westlake, Malibu, San Fernando Valley, Los Angeles, Irvine, Glendale, San Diego, Riverside, Pasadena, Torrance, Orange, Anaheim, Long Beach, Lancaster, Palmdale, Bakersfield and San Luis Obispo. Please contact Freddy Espinal at (805)729-5877 or freddy.espinal@gprsinc.com to learn more about ground penetrating radar and how GPRS can assist in your projects.