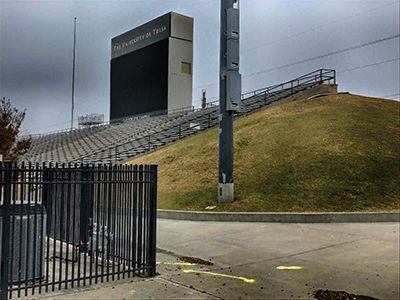 Ground Penetrating Radar Scan for Utility Lines - Tulsa, OK
Ground Penetrating Radar Systems of Oklahoma works extensively with Drilling Contractors to locate underground subsurface utilities. Jay Tate-GPRS Oklahoma was contacted by a local Drilling Company, to locate any subsurface utilities with in proposed area at local college in Tulsa, Oklahoma. Since GPR shows data in real time, the results were marked directly on the surface using marking flags/flags. With the findings marked on the surface the Drilling Contractor was able to avoid in damage or injury during the drilling process. GPRS provides knowledge of what lies beneath the surface. Using GPRS reduces risk and cost, promotes a safe work environment, and provides non-destructive testing by locating materials such as concrete, plastic, metal, steel, rock, soil, ice, and pavement. GPRS is a nationwide company with technicians in every state and city. GPRS technicians must complete months of training in and out of the field, with its training facilities in Toledo, OH. GPRS - Oklahoma Team has more than 15 years of field experience to help your company on your next project, to prevent the potential of a dangerous or costly utility strike.
For underground locating services in Oklahoma: Catoosa, Cushing, Drumright, Cleveland, Tulsa, Broken Arrow, Glenpool, Tahlequah, Stillwater, Collinsville, Owasso, Okmulgee, Verdigris, Claremore, Miami, Bixby, Sapulpa, Muskogee, Sand Springs, Bartlesville, Broken Arrow, Pryor, Durant, Hugo, Poteau, Stilwell, Sallisaw, Henryetta, Okmulgee, Coweta, Wagoner, McAlester, Idabel, Broken Bow, Vinita, and Nowata, Bristow, Vinita, Collinsville, Hugo, Ft. Gobson please call (918)779-8323 or email jay.tate@gprsinc.com.
For underground utility locating services in Oklahoma: Oklahoma City, Midwest City, Bethany, Del City, Norman, Guthrie, Yukon, Mustang, Moore, Warr Acres, Piedmont, El Reno, Tuttle, Cashion, Blackwell, Chandler, Ponca City and Edmond area call (405)815-7415 or email andy.dermer@gprsinc.com.
For underground utility locating services in Oklahoma: Lawton, Elk City, Weatherford, Guymon, Woodward, Enid, Alva, Clinton, Duncan, Altus, Ardmore, Shawnee, Chickasha, Pauls Valleys, Ada, Sayre, Marlow call (580)335-4355 or email mike.kuebbeler@gprsinc.com.
The picture above shows the markings on the surface where the underground storage tank was located (green markings indicate the edges of the UST).