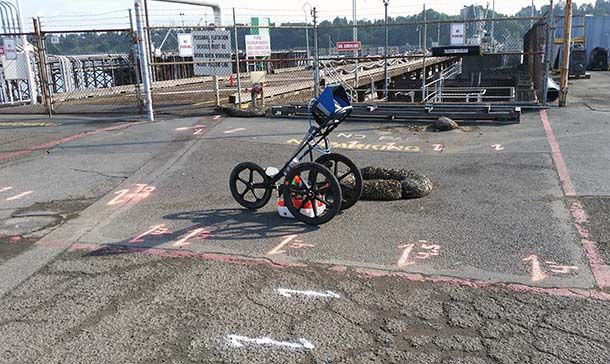 Ground Penetrating Radar Locates Underground Utilities at Job Site in Portland, OR
A private contracting company contacted Ground Penetrating Radar Systems of Portland to map out underground pipes and utilities prior to excavation and construction of new buildings. The area in question contained a large number of existing pipelines that needed to be avoided during the construction process. Ground Penetrating Radar & Radio Detection were used to map the lines on the surface with their corresponding depths. The methods that are utilized by GPRS are extremely accurate and cost effective, providing instantaneous results with a small margin of error. A survey company was then able to follow directly behind GPRS to GPS all of the lines using their surveying equipment, allowing the construction company to proceed at their leisure without fear of hitting any underground obstructions.
To learn more about the capabilities of GPRS in Portland and the Pacific Northwest contact Project Manager, Eric Steyer, at (503)502-4781 or eric.steyer@gprsinc.com.