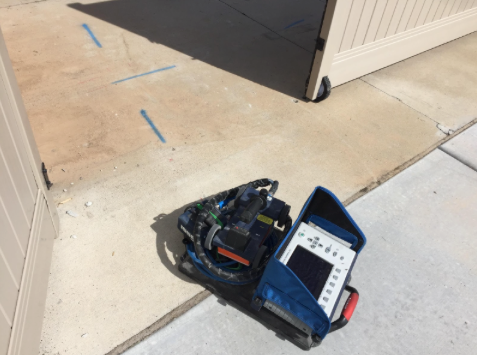 Detected Residential Water Line
Ground Penetrating Radar used to locate underground water line in Phoenix, Arizona.
Ground Penetrating Radar Systems, LLC. - GPRS - of Arizona was contacted by a local resident in Flagstaff, Arizona to locate an underground water utility line. The resident had a critical need to locate the underground water line which was suspected of being broken. Detecting the water line path was necessary as that would be a large deciding factor as to how it would be repaired or replaced. The resident specifically wanted to know if the line ran underneath the patio and driveway concrete slabs.
Ground Penetrating Radar Systems, LLC. was called immediately and arrived on site within 24 hours of receiving the call for help. GPRS used both ground penetrating radar and radio detection / signal induction technologies to locate the water line right away. It was immediately determined the path and direction of the water line, giving the critical information needed by the customer to aid in their repair planning project.
With Ground Penetrating Radar System's quick response and locating of the underground water utility line, the necessary information was quickly gained and allowed the resident to adequately plan ahead for the necessary repair procedures ahead. Without the essential services of GPRS, locating the water line would have been a costly and time consuming process.
Ground penetrating Radar mapping is a great tool to scan areas of post tension cables, rebar, and conduits, including PVC pipes. Ground penetrating radar can also be used to locate underground utilities such as water, gas, electrical, communication, sewer, and other objects prior to digging or excavating. Please contact Ground Penetrating Radar Systems - GPRS to learn how we can assist with your next project.
GPRS has done many projects such as this in Phoenix, Tucson, Yuma, Flagstaff, Prescott, Kingman, and throughout the entire state of Arizona and performs GPR surveys throughout the United States. Contact Nate Holscher (Regional Manager) at (480)227-8614 or nate.holscher@gprsinc.com today to schedule an appointment for a free demonstration or if you have any inquiries for your next project.