The Intelligent Art of Locating
Field Notes on Subsurface Investigation Methodology

The distinctive small of concrete sealant smacks you in the face as you walk through the doors of any of the four classrooms at the GPRS training facility on Silica Rd. in Sylvania, Ohio.
That's because it's essential to preserve the unique, 3,000-square-foot post tension concrete slab that is the hallmark of this facility. Hundreds of Project Managers cycle through the doors of the classrooms annually to receive their Subsurface Investigation Methodology (SIM) training.
A major part of that education process – which goes above and beyond anything else that exists in the concrete scanning and utility locating industry – is getting down on your hands and knees and scanning the slab, which is riddled with post tension cables, conduit, and other subsurface anomalies to simulate what GPRS Project Managers might encounter when on an actual job.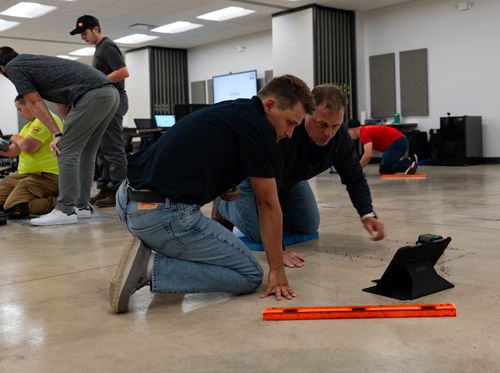 I didn't see a single suit in the building the day I was there. The dozen or so men and women in the room with me wore jeans, t-shirts, work boots, knee pads, and ball caps as they sat at tables taking notes while an instructor wrote on the white board at the front of the room. Then the board, tables, and chairs all cleared away as the Project Managers-in-training begin to work with their Proseq GP8800 ground-penetrating radar scanners.
What these Project Managers are learning is exceptional: locating rebar, conduit, pipes, and more to uphold GPRS' 99.8%+ accuracy during utility locating and concrete scanning, keeping construction sites and facilities safe, and projects on time and budget.
GPRS Project Managers wield the versatile GPR device, alongside expert training from engaged instructors. You won't find a corporate classroom where instructors engage more closely with trainees - they get down on the floor to share their experience and provide a seasoned perspective, priming you for growth.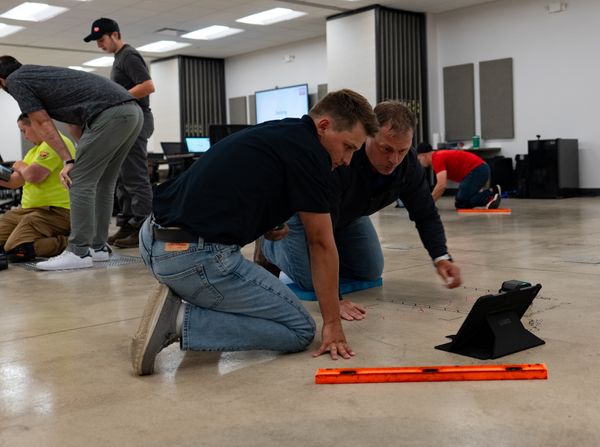 Field Support Training Specialists like Matt Vaillant, Evan Soto, and Training Manager Mitch Streight are no ordinary instructors - each an expert in subsurface locating. Far from measuring students' progress against one another, these masters help experienced Project Managers elevate to the top of their field. Their SIM curriculum, crafted by Field Services Director Jamie Althauser, blends technical and artistic skills into a powerful end product - an elite group of technicians.
"The GPR scanner is dumb," Vaillant says. "It's up to the person interpreting the data. You have to be savvy."
SIM training instills the technique and technical aspects of construction and as-built locating. Our instructors acknowledge that Project Managers have their unique approach to scanning. They provide vital information on defining critical targets, handling diffraction, and placing scan boundaries, while also being receptive to any new techniques that students have learned from the field. After all, it's the PMs who must creatively troubleshoot challenges.
Savvy is critical in every project, as Vaillant puts it. Fortunately, we teach and model it in our program. We also emphasize the limitations of GPR units, taking time to demonstrate the small calibration adjustments needed in the field.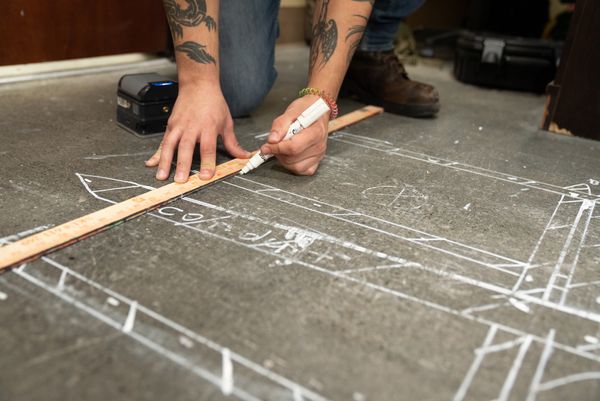 The SIM program comprises various levels, with each level taking Project Managers to a different classroom within the building. Every level yields increased complexity and difficulty, including challenging simulations of an elevator shaft and underground storage tanks.
Plenty of time is also spent in the field where Project Managers go beyond just applying lessons learned on concrete to a range of locations, including parking lots and buildings. They easily locate subsurface pipes, storage tanks, and conduit using imaging tools, marking out their finds in detail.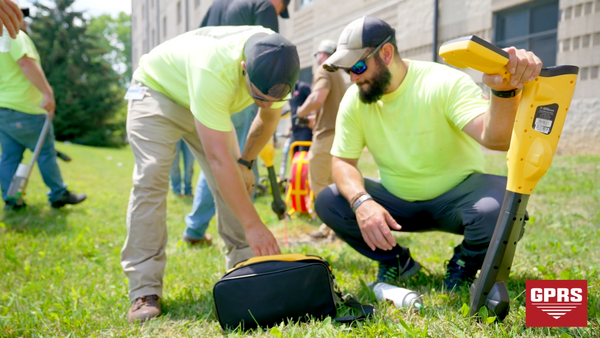 Often SIM classes spend time at GPRS SiteMap Pilot Program Partner, The University of Toledo.
GPRS locates are presented as whole numbers, with prescribed markings and color coding for each type of locate. This method leaves no room for interpretation, ensuring precision and accuracy is paramount in every surveyed area. The result is unmatched accuracy and clean lines, precisely what contractors need when they're looking for an unbeatable, detailed approach.
"I want other contractors to see our marks and decide to call us because they see the detail and clean lines on what we do," Soto says."
GPRS training is as much about teambuilding as it is about locating. At GPRS, the team always comes first.
Project Managers come from all over the country to the Sylvania training facility to learn the intricacies of utility locating and concrete scanning. But they also come to socialize with each other and with other members of the GPRS team.
"[GPRS] is the kind of company I really looked for, for the last seven years since I got out of the Marine Corps," said Detroit area Project Manager Cory Ertle. "I feel like I'm part of a family, and that's hard to replicate… that brotherhood that you experience… Everybody here, they've got your six, so to speak. Everybody has your back."
Start your GPRS career today. Visit gp-radar.com to review a list of current job openings.