10 Modern Tools for Utility Locating & Their Benefits
And How GPRS Uses Them to Keep Your Projects On Time, On Budget, and Safe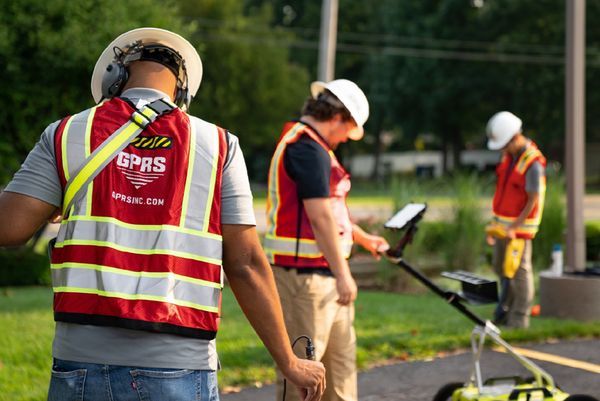 GPRS uses only the most advanced utility locating technology – including acoustic leak detection, ground penetrating radar, and electromagnetic locating – to help you Visualize The Built World.
Since its establishment in 2001, GPRS has committed to being at the forefront of utility locating technology. Our nationwide team of highly trained Project Managers use only the most accurate equipment to provide customers with safe and trustworthy services.
At GPRS, we know what's underneath matters – it impacts your budget, timeline, and safety.
Below is a quick look at 10 of the most vital utility locating tools at our disposal: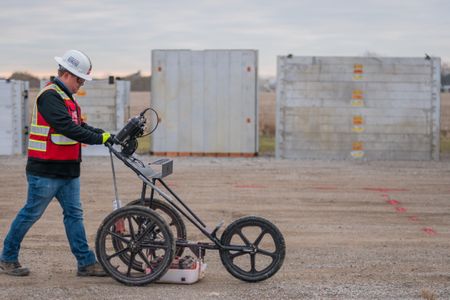 Ground Penetrating Radar (GPR)
Ground Penetrating Radar (GPR) technology uses radio waves to detect buried or otherwise concealed subsurface objects. It can detect both metallic and non-metallic components, making it useful in a variety of environments and applications.
GPRS uses the ImpulseRadar PinPointR GPR Scanner for utility locating. Its dual-channel operation allows for one-pass locates with full depth range, and a built-in GPS allows for data geo-referencing.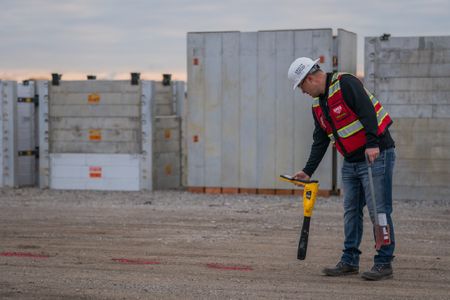 Electromagnetic (EM) and Electromagnetic Induction (EMI) Locating
Alongside GPR scanners, electromagnetic pipe and cable locators play a crucial role in GPRS Project Managers' ability to conduct utility locating services. These locators carry out detections through a combination of a frequency-emitting transmitter and a receiver, allowing for the precise location of underground utilities to be determined. Non-metallic pipes are detected using a signal transmitter and a rodder, which energizes the pipe so it can be picked up by the locator.
Electromagnetic Induction (EMI) is highly efficient in most soil types and conditions. It functions by transferring an electrical signal at an alternating rate to the pipe or wire in question, which is then analyzed via a receiver. Even ineffective soil types for GPR can be easily managed via EMI, making it the perfect complement to the GPR scanner. Our Project Managers have the experience and access to cutting-edge tools, such as the Vivax-Metrotech Vloc3 PRO Utility Locator, to make sure your underground utilities are located efficiently and precisely.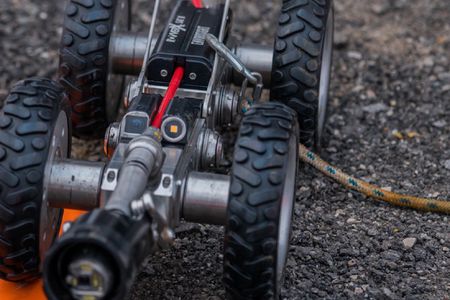 Robotic CCTV Crawlers
GPRS' Envirosight ROVVER X robotic crawlers can inspect large pipes in diameters ranging from 6" to 96". These rugged, adaptable tools provide the most accurate views of pipeline conditions and their exact locations, identifying leaks or other structural deficiencies before they become a serious issue. The entire process is video recorded and presented to the client so they know what issues were located and where.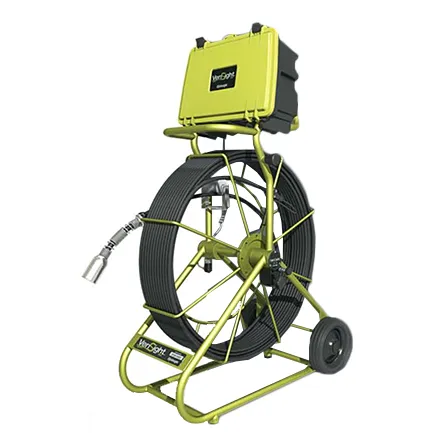 Push Cameras
To handle small pipes and situations where our crawlers are unsuitable, our Project Managers use a manually fed line attached with a camera. The system is outfitted with a sonde, a miniature radio transmitter that can identify underground utilities made of non-metal material. The whole process is recorded in video to enable our customers to see the problems we detect with their own eyes. Our technical expertise and reliability in sales are assured.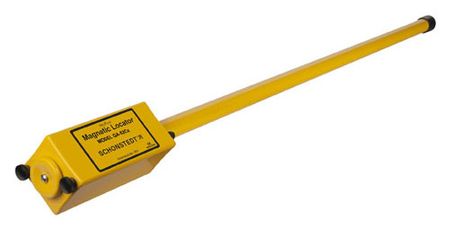 Magnetometers
Magnetometers measure magnetic forces, which allows them to accurately detect magnetic fields created by ferrous, metallic objects buried underground. GPRS typically uses magnetometers to locate isolated, metallic utilities such as underground storage tanks (USTs), valves, manholes, and well heads.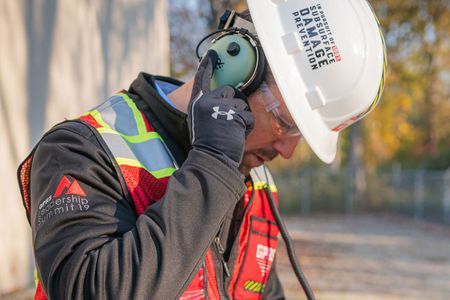 Acoustic Leak Detectors
GPRS' acoustic leak detectors consist of a DXMIC Ground Microphone, an elephant foot microphone, noise-cancelling headphones, and a monitor for acoustic leak detection. This setup allows our water loss specialists to pinpoint the location of a water pipe leak non-invasively by listening for distinct sounds caused by the leak.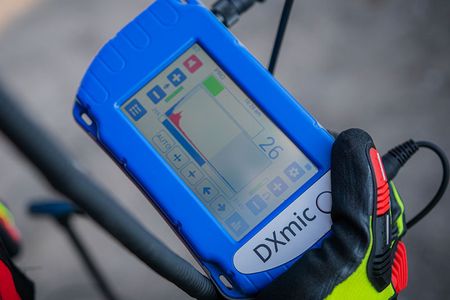 Leak Detection Correlator
Leak detection correlators are specialized electronic devices designed to locate a leak within pressurized water or gas lines. They employ a specialized algorithm to pinpoint the "spike" in signal that determines the location of a leak. Both acoustic leak detectors and leak detection correlators are utilized when GPRS conducts a leak detection locate.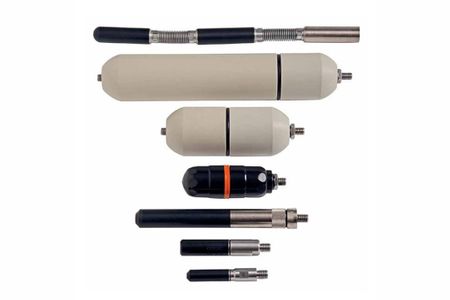 Sondes
These utility locating probes allow our Project Managers to identify the location of underground utilities from an inaccessible location. For this reason, sondes are often included on our robotic crawlers, lateral launch, and push cameras, especially for pipe inspection services. However, they can also be independently deployed for locates in non-metallic pipes by tracking the transmitter via EM technology such as the Vivax-Metrotech Vloc3 PRO Utility Locator.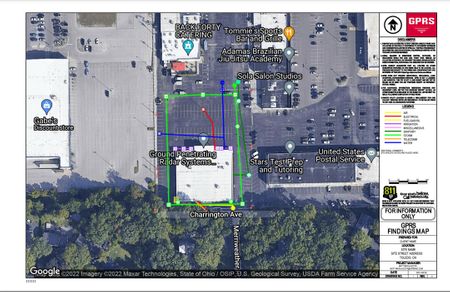 Mapping and Modeling
3D utility mapping is a cutting-edge process that produces a three-dimensional model of a given project area while mapping out its underground utilities with exact locations.
This process cross-references all subsurface utility data, including water, sewer, and gas lines, as well as structures and electrical wiring. It can be conducted before concrete is poured, or through a GPR utility locate that notes the depths to be modeled.
By assembling an accurate 3D map of all the underground utilities of a project site, and a corresponding CSM (Conceptual Site Model), facility managers and their teams can easily pinpoint potential problem areas and formulate solutions before the project breaks ground.
SiteMap®, powered by GPRS, offers you 3D Utility Mapping and Modeling capabilities, along with GPRS' existing range of maps and models, to store and reference inspection results securely in our Digital Plan Room, and fully interpret them in our Map Viewer feature. This guarantees greater collaboration amongst clients, subcontractors, designers, engineers, and all those involved in visualizing the complete facility in a new, innovative way. Download your brochure and contact us for a quote today to learn about how we can help you and your team flawlessly translate and communicate all your project's design needs.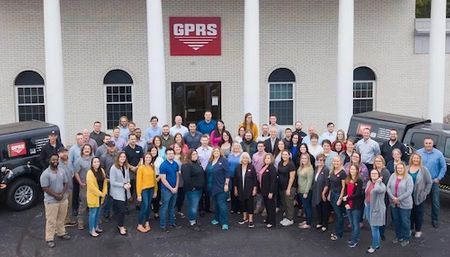 Our People
GPRS' 99.8% accuracy rating for utility locating is made possible by our elite team of Project Managers who use advanced tools to ensure compliance with Subsurface Investigation Methodology (SIM) standards.
SIM emphasizes on training, equipment expertise, and best methodology practices to safeguard underground assets, limit structural damage, and increase location contractor accountability.
GPRS clients are guaranteed reliable scanning technology and the assistance of a Project Manager who provides accurate data. With GPRS, you'll Intelligently Visualize The Built World™ beneath your feet and locate potential issues before they escalate.
What can we help you visualize? Visit gp-radar.com to schedule a service or request a quote today!