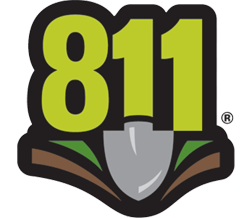 What is 811?
The 811-dial number is the national call-before-you-dig phone number and is typically utilized before excavation has begun. Anyone who plans to dig or drill into the subsurface of a project site are required to call 811, or go to their state's 811 center's website to request an appointment. A field staff member will then travel to your job site, find the approximate location of buried utilities, then mark each discovered location with paint or colored flags so that you or someone on your project site, does not unintentionally dig into an underground utility line. Whether you're a homeowner or a contractor, calling 811 should always be the first course of action before beginning excavation on any project site.
To be safe and stay ahead of schedule for your construction project, you should always call 811 or visit your state 811 center's website two to three business days before you begin digging. This includes common projects such as planting trees and shrubs or installing fences and mailboxes. Additionally, the specific amount of advance you are required to provide varies by state; therefore, check with your state guidelines on when is the appropriate amount of time you should allow when calling 811 and beginning subsurface digging, to give yourself the chance to protect field staff and yourself from costly damages and unwarranted injuries.
But what information do I need to know before calling 811?
Before calling 811, you will need to know the address of where you plan to dig, including the count and nearest cross street, in addition to the type of project you're completing with the exact area on the property that you plan on digging. Whether you make the call or submit your request online, you'll need all the same information regardless. After calling 811, you'll need to wait a few days to allow utilities to respond to your request and ensure that all utilities have indeed responded to your request before breaking ground. Once all utility investigators have marked their buried lines you should, you should dig carefully around any utility marks and consider relocating any projects that are close to buried utility lines.
Lastly, most people don't understand that the 811 public service number will only locate the PUBLIC utilities on your project site. All private utilities and pipelines will require the assistance of a private utility locator, like GPRS, to avoid any line strike damages or injuries that could occur without the knowledge of the location of these private utilities. Ensure that you perform research on your property, typically through the use of as-built drawings and facility maps, to figure out if you contain any private utilities on your property.